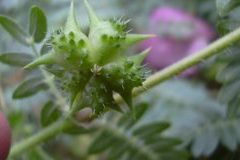 Tribulus (Tribulus terrestris) has traditionally and mainly been used as a male tonic. Historically it is used to treat low libido, erectile dysfunction, sexual dysfunction and infertility. More recently European athletes have employed the herb to improve their strength and stamina.
Tribulus appears to improve male fertility due to its ability in increase sperm count, sperm viability and libido. Additionally it has been shown to protect against cadmium-induced testicular damage in preclinical investigation, potentially due to its antioxidant effect.
In a recent study, 72 patients between 21 and 50 years of age with oligozoospermia (sperm count <20 million/ml) were assessed over 60 days in a randomised, double-blind, placebo-controlled trial evaluating the efficacy of Tribulus. Out of the 63 patients that completed the trial, 31 were randomised to receive placebo granules and 32 were randomised to receive Tribulus granules (6 g twice daily). The patients were assessed on the basis of alleviated symptoms of oligozoospermia, improvement in the semenogram (especially the total sperm count), the serum levels of FSH, LH and testosterone, as well as results from the Quality of Sexual Life Questionnaire.
The placebo group showed an overall 70.95% improvement, whereas the Tribulus group had an even greater overall improvement of 78.11%. Tribulus provided a highly and statistically significant result in regards to the symptom parameters of weakness (78.26%), loss of penile erection (9.44%), loss of penile rigidity (17.02%), premature ejaculation (10.68%), lack of orgasm (13.54%), and postact
exhaustion (13.33%).
Concerning the herb's hormonal effect, patients from the Tribulus group showed increased levels of serum testosterone (16.3%), and decreased levels of serum FSH (35.3%) and LH (33.4%). The Tribulus group experienced statistically significant improvements in sperm count and motility, whereas the placebo group only experienced increases in sperm count (not motility).
In a recent uncontrolled trial, 65 infertile men (between 18 and 50 years of age) with abnormal semen evaluation were orally administered a standardised Tribulus tablet (250 mg, one tablet three times per day) for 12 weeks. Each Tribulus tablet contained 250 mg dried extract standardised to 37.5 mg (15%) of steroidal saponins.
In this trial, body fat percentage, lean muscle mass gain, fluctuations in steroid hormone levels, and semen parameters were analysed during the treatment period. The results demonstrated a significant decrease in the percentage of body fat and a significant increase in lean mass, as well as a significant increase in serum dihydrotestosterone levels compare to baseline values.
Aphrodisiac effects and enhanced sexual function, have also been observed in human studies. The preliminary results from a prospective, randomised, double-blind, placebo controlled and clinical trial, indicate that Tribulus may safely improve sexual function in men with mild to moderate erectile dysfunction. In this recent trial, 180 Bulgarian men with mild to moderate erectile dysfunction were randomised to receive either placebo or a tableted extract of Tribulus for 12 weeks. Throughout the study, the participants were assessed each month using the International Index of Erectile Dysfunction (IIEF) questionnaire and a Global Efficacy Question (GEQ; an example would be, "Did treatment improve your erections?").
The trial found that erectile function score was significantly improved in the Tribulus group compared with the placebo. And in the domains of the IIEF, Tribulus was shown to be significantly superior in orgasmic function and sexual desire.