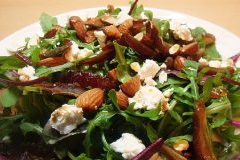 After much prompting, prodding and, nagging, I am delighted to report I did indeed receive a decent number of most imaginative entries for my leafy competition. Thanks to all those who sent in their original recipes. I had a wonderful time preparing each dish, and even lovelier time consuming them!
Very difficult to choose, but the winner is Patti Idolo for her date and rocket salad.
Congratulations Patti you have received an on-the-house consultation with me! (Patti's recipe can found below and special mention to Nancy and Olivia for their inspirational entries too!)
Patti's date and rocket salad
Serves: 4
Ingredients
1/4 – 1/2 cup almonds, skin on, roughly chopped
100 g rocket leaves
100 g soft pitted dates, roughly chopped
20 g mixed basil leaves (green, purple and chard leaves will
add more colour), roughly broken into pieces
1/2 cup parsley, roughly chopped
2–3 sprigs of dill
120 g soft goat cheese
Dressing
3 tablespoons olive oil
2 teaspoons pomegranate
molasses
Method
To roast almonds preheat the oven to 180°C.
Lay the almonds on a tray and roast for 10–12 minutes being careful not to burn. Set aside.
On a serving platter spread the rocket leaves evenly.
Add the dates, basil, parsley and dill on the surface of the rocket leaves. Crumble the cheese on top so that some of the rocket leaves can be seen.
In a small bowl make the dressing by adding the oil and molasses and whisk until combined. When ready to serve, drizzle the dressing over the salad. Sprinkle the almonds on top.