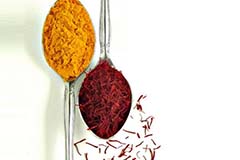 Many of us use turmeric and saffron in our cooking. But these delightful plants have recently been proven to improve mood, in therapeutic dosages.
Indeed, both Curcuma longa (turmeric) and Crocus sativus (saffron) have been extensively clinically trialed and shown to be as effective as, and are able to be taken alongside, pharmaceutical SSRIs (anti-depressant drugs) without negative effects.
Two clinical trials on a particular form of turmeric, BCM-95 and four on saffron show these ingredients, at doses of 25.0 g (equivalent curcumin = 700 mg) and 45 mg respectively, to be as effective as pharmaceuticals in supporting healthy mood.
In a randomised, double-blinded, placebo-controlled trial 60 patients with low mood were treated with 25.0 g BCM-95 turmeric per day or a pharmaceutical selective serotonin reuptake inhibitor (SSRI) for six weeks. BCM-95 turmeric was found to be as effective as the SSRI for supporting healthy mood.
Similarly, in a randomised double-blinded, placebo-controlled study of 30 patients with low mood, 90 mg of saffron per day was shown to be as effective as a pharmaceutical tricyclic antidepressant (TCA) in supporting healthy mood.
Curcumin not only addresses low mood but also some of the contributors to low mood. It is a potent antioxidant, modulates inflammation, and provides neuroprotection and influences monoamine transmission through its effect on serotonin and dopamine activity.
Saffron also helps support healthy mood by maximising natural levels of monoamines in the brain, and reduces glutamate activity in the brain.
There are a number of excellent products containing these two wonderful plants, but ensure the doses are correct and use only the BCM-95 form of curcumin. And be aware that these herbs can also be used alongside pharmaceutical SSRIs without negative effects.