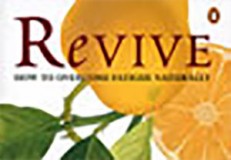 Many of us feel permanently fatigued. Well-known naturopath and herbalist Jill Thomas explains why this is so, and how we can 'revive' ourselves with a safe, natural approach to diet and lifestyle.
Whether you're an overworked executive, an anxious student or a sleep-deprived mother, you'll find friendly advice here about overcoming fatigue through diet, nutrition, herbal medicine, exercise, relaxation and, of course, better sleep.
REVIVE puts you back in charge by showing you how to create a life sparkling with energy.