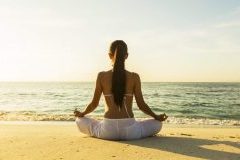 A well balanced diet, a regular exercise regime, support of family and friends are all key ingredients for a happy healthy life. But 2017 has made me reflect on the importance of quietness and gentle listening. Too much constant noise surrounding us day-long is so draining.
Ear phones with the volume up to high (or even worse those who insist on entertaining themselves on their smart phone without earplugs arrhh!!), chatting to colleagues and friends on the phone in a disrespectfully loud voice, the constant buzz of traffic, workplaces with noisy machinery and the constant ringing of phones, all sources of too much unwanted noise.
Let's concentrate on listening to quietness and the sound soft nature. Nothing is more uplifting to me than listening to the birds sweetly singing in the morning, or the gentle sound of rain on the roof.
Let's try to reconnect to with soothing, natural sounds in the New Year, and decrease as much as possible intrusive noise. Not easy in our privileged world of gadgets, but achievable with a small push. Concentrate on the soothing rather than the intrusive.