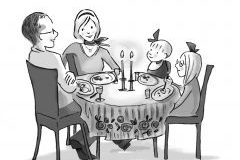 Having recently been fortunate enough to spend three months in my beloved France, I had many wonderful opportunities to observe the interaction between French children and their dining companions, be it mum and dad, grandparents or friends.
The striking difference is that French children are expected to converse with their dining companions, sit
up properly at the table, and use their knife and fork.
They even drink their water (no soft drinks, mon dieu!) in a wine glass. They don't fidget, whine, nor require distraction. They chat to their parents and engage as a family in the meal and their surrounds.
Perhaps we need to re-examine the perpetual need to distract and entertain children at meal times in Australia?
Mobile phones, tablets, colouring books . .. are these diversions really necessary at the dining table?
Treating children as mini-adults when it comes to eating, is perhaps a good idea. Less emphasis on distraction, more attention to integration?