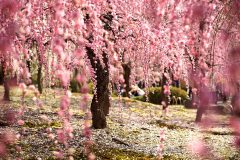 Nature is reawakening from a cold winter and presenting us with a stunning array of sensory delights! Jasmin-scented air, cherry blossom lined streets, blackbirds singing in the early hours.
To my utter astonishment I have even discovered a blackbird's nest in my jasmine bush. Hard to beat the meaningful nature of that. Rebirth in amongst spring flowers!
Let's take incentive from springtime's revival, and join in! Let's align ourselves with this remarkable act of re-emergence, and reap the spring rewards.
We are going to tidy up around the edges. Tighten up, reduce sloppiness. We shall emerge after a few small changes as bright and as full of potential as a cherry blossom!
Let's start by deleting all unnecessary snacking. Being hungry for our next meal is natural, we don't need to graze all day.
Look at your dinner plate, is there an enticing array of colourful veggies?
Ensure your water consumption is a least eight glasses of water each day. Begin each morning with a glass of warm water and lemon juice, and take 5 ml apple cider vinegar prior to dinner. Excellent for digestion and bowel health.
Lastly, re-examine your exercise regime. Commit to adding in an extra 10 minutes each day to your run, walk, swim, or weight session and let's make a huge effort to push ourselves outside our comfort zone. (I am sure the poor blackbird keeping her eggs warm in the rain and cold is doing so!)
Choose an exercise you particularly dislike… push-ups, the plank the dreaded burpees! (Yuk!!) And try a few. So easy to keep on doing what we are good at! Let's get a little uncomfortable.