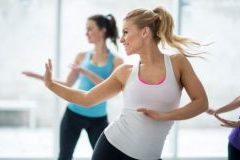 Shock…horror!! A few of my lovely patients have recently uttered the most astonishing sentiments…
They have told me in a resolute manner that they "hate exercise"! Not exactly music to my ears!
What they really mean is that they dislike a particular form of exercise, perhaps jogging or the gym. It is impossible to hate all exercise! There is such a wonderful array of enticing choices. The key to opening the door to exercise heaven is to find a type of exercise you enjoy. Venture into a gym and examine the enticing choices of various classes from which to choose or consider a brisk morning walk, set up an exercise bike and a few weights at home, buy a skipping rope, hula hoop, take some swimming lessons or dancing lessons, engage a personal trainer for a few ideas, start pilates or yoga. I could go on and on.
This month's challenge for all of those not currently exercising is to diligently investigate the options and commit to an exercise regime with passion. For all of us who are currently exercising, let's push the boundaries a little and pick out the exercise we dislike the most, be
it the plank, burpees (a particular non-favourite of mine) and practice it until we are proficient at it and no longer actively avoid it.
Look forward to hearing your exercise success stories… I'll let you know how I get on with my burpee challenge next time around.