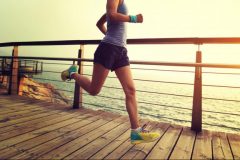 Another reason to lace up the runners! Endurance athletes have improved cognitive function.
In a recent study brain function in expert athletes was compared to non-athlete adults, with results showing the more time spent in high aerobic activity were shown to have greater neuroplasticity which translated to improved executive function, faster processing skills and better multi-tasking skills when compared to their more sedentary controls.
While high intensity interval training has received a lot of attention for its metabolic benefits, it has the added delightful bonus of improving the running of the brain! I am sure there are many of you who have your best ideas while pounding the streets!